UAE Embassy in Washington Portrays Mosaic Modernism
Did you know that constructing the United Arab Emirates embassy in Washington DC required a total of 94,545 square feet of stone? Including 13 varieties of marble, granite and quartzite?
Created by architect Angelos Demetriou, the design concept provided many fabrication and installation challenges, among which were two Arabic patterned pre-assembled marble "carpets" totaling 1,500 square feet, solid granite entrance portico pieces, a granite and tile fountain and pool, and solid marble and granite staircases.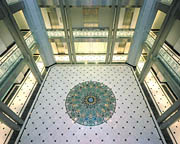 The exterior of the building featured two domes made of Arabic patterned mosaic tiles, the large one consisting of 1,950 square feet of mosaic tiles, while 135 square feet of tile was employed for the small one. Inside, challenges included precise installation of two massive marble floor medallions recalling Arabic carpets, plus more than 20,000 square feet of interior Raviccione marble, meticulously blended.
Today, the embassy building is a unique masterpiece that represents classic Islamic architecture in a modern way through marble and granite.