Bring your spaces to life with a custom design in only 10 days
Mosaic Marble offers you to customize any design from our exciting collection, changing the colors, shape or size, to fit into your space.

Or transform your favourite painting or picture into mosaic art, using the finest marble and quartz.

Whether you are looking to customize a kitchen backsplash, create a romantic garden space, or transform your bathroom into a Turkish hammam our designers will work hand-in-hand to accomplish your vision of your art.
Each mosaic is handcrafted meticulously and carefully, from the design phase all the way till the installation.
Meet Taline Assi
CEO and Lead Designer at Mosaic Marble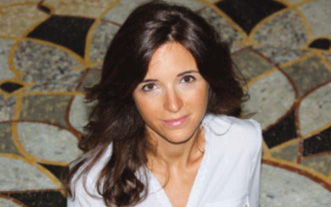 I believe that one touch of beauty can change the world we live in.
Our unique mosaics are created to bring yourspaces to life.
CFrom design through to production, when i say mosaics are in safe hands, i literally mean it. Each one of our 14 team members is highly-trained to work and handle mosaics with utmost care and professionalism from prodction through to shipping.
Our headquarters and workshop are located in the vibran city of Beirut, Lebanon, at the heart of some of the most talented designers and skilled artisans to ensure the highest quality of mosaic art work.
Have a project in mind? Tell me about it.

Quick Turnaround
Items in stock ship immediately. For custom designs, our teams of designers and artisans will have it ready to ship in 10 days.

Free Worldwide Delivey
We ship worldwide via DHL worldwide. All shipment are insurred.

Superior Service
We work 1-on-1 with every customer. Since all the marble is hand cut, the flexibility to create any shape or pattern is infinite.
Lifetime Warrantee
Our tiles are made of natural material, they are robust, non combustible, and are able to withstand weather stress.
What our customers say
Thank you so much for the update. We are excited to have this installed in our shower that will be with us until we are old and grey! Thank you from the bottom of our hearts for your amazing professional work.
My husband and I received the mosaic yesterday. It is magnificent! We opened the DHL package in front of all of the workers who are building our new home. The workers were so impressed that all work stopped to admire the mosaic!
Our mosaic arrived today and we are thrilled with how truly beautiful it is. It will certainly be the focal point in our new master bathroom. You were so helpful and everything you said about timing was spot on.
Mark and I thank you for you precise and creative input. Undoubtedly, you are the best in Mosaics we have ever met. I'll send you an image of the 3 Orcas in the wine bodega in a bit.
I LOVE it! Thank you so much! We will enjoy having this as a treasured part of our home for a long time. Thank you again so much!
My Dolphin mosaic arrived in perfect condition. The workmanship is spectacular. Makes me wish I had more projects so I could add more mosaics. Thank you so much.
The mosaic has just arrived. It is just BEAUTIFUL!! Even the men who unwrapped it for me said "WOW" when they saw it. Thank you for your help in getting it delivered promptly.
Just wanted you all to know how pleased we are with our mosaic mural. It is absolutely beautiful. It arrived in perfect condition, and I am extremely pleased with your service.
The five mosaics were delivered yesterday. We have unrolled one of them… your work is absolutely amazing…. beyond our expectations….especially regarding the detail of the tesserae.
We purchased a beautiful kitchen backsplash mosaic from you years ago--- it's the (subtle / exquisite) focal point of the room If/when we have another need to purchase a mosaic --- you, you are the place to go!
The mosaic has arrived safely. Thank you all so much. It is even better than I thought it would be. It is absolutely fantastic. I will try to send you a photo when it is installed. A pleasure doing business with you.
I wanted to send you a quick e-mail to say Thank you! You were so helpful and did a fantastic job on getting it to us in a hurry. It is absolutely beautiful and we hope to enjoy it for many years to come. Take Care and God Bless.
As Featured in The New York Times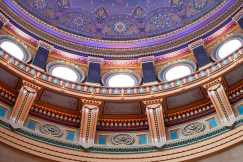 A Landmark Restored, From Mosaic Marble Floor to Grand Dome
By DAVID W. DUNLAP MARCH 12, 2014
As sumptuous as a jewel box suspended 110 feet over the mosaic marble floor, and as radiant as a peacock's plumage, the great dome of the former Williamsburgh Savings Bank headquarters at Broadway and Driggs Avenue once again inspires awe.
And all around the landmark building, intricate "WSB" monograms — some original, some re-created — once again inspire astonishment. They are molded into every landing of the grand iron staircase, etched into all 20 oval windows around the drum of the dome, and cast into each ornamental brass doorknob and door hinge.