Mosaic tile art company trusted by 800+ private, commercial, & governmental customers
New Marble Mosaic Designs

Quick Turnaround
Items in stock ship immediately. For custom designs, our teams of designers and artisans will have it ready to ship in 10 days.

Free Worldwide Delivey
We ship worldwide via DHL worldwide. All shipment are insurred.

Superior Service
We work 1-on-1 with every customer. Since all the marble is hand cut, the flexibility to create any shape or pattern is infinite.
Lifetime Warrantee
Our tiles are made of natural material, they are robust, non combustible, and are able to withstand weather stress.
As Featured in The New York Times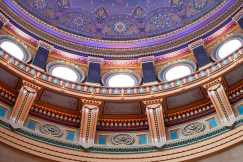 A Landmark Restored, From Mosaic Marble Floor to Grand Dome
By DAVID W. DUNLAP MARCH 12, 2014
As sumptuous as a jewel box suspended 110 feet over the mosaic marble floor, and as radiant as a peacock's plumage, the great dome of the former Williamsburgh Savings Bank headquarters at Broadway and Driggs Avenue once again inspires awe.
And all around the landmark building, intricate "WSB" monograms — some original, some re-created — once again inspire astonishment. They are molded into every landing of the grand iron staircase, etched into all 20 oval windows around the drum of the dome, and cast into each ornamental brass doorknob and door hinge.
What Our Customers Say
Thank you so much for the update. We are excited to have this installed in our shower that will be with us until we are old and grey! Thank you from the bottom of our hearts for your amazing professional work.
My husband and I received the mosaic yesterday. It is magnificent! We opened the DHL package in front of all of the workers who are building our new home. The workers were so impressed that all work stopped to admire the mosaic!
Our mosaic arrived today and we are thrilled with how truly beautiful it is. It will certainly be the focal point in our new master bathroom. You were so helpful and everything you said about timing was spot on.