Mosaic Artist: Saimir Strati
Saimir Strati, the Albanian mosaic artist born on April 11, 1966 has not stopped to amaze the world with the originality of his works. He uses a wide range of different materials and is heavily inspired by music. He also combines painting with mosaic beautifully.
Strati has a series called 'The Four Seasons' based on the Vivaldi concerto, which took more than 5 years to complete where each season is represented by a different musical instrument.
Amongst his pieces, 'The King'; a portrait of Elvis Presley measuring almost 2m in height made of over 400 CD's.
Another, essential piece is "Piece" where Strati used mirror fragments to reflect the message.
Diverse, Strati has imposed himself as the mosaic artist of the century with 6 Guinness World Records made in Tirana, Albania:
The Largest Nails Mosaic, "Leonardo Da Vinci" displayed at the Arbnori International Center of Culture, on 4 September 2006 where he re-created Leonardo Da Vinci's self-portrait using around 400 kilos of nails over a 2x4m surface; each nail representing a pixel.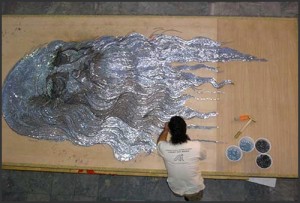 The Largest Toothpick Mosaic, "Reinless Spirit" on 4 September 2007 where it took him 40 days to affix 1.5 million toothpicks over a 4x2m surface, in order to create the image of a horse.
The Largest Cork Mosaic, "Mediterranea", created at Sheraton Tirana Hotel from 8 August to 4 September 2008 where 229,764 corks were used over a surface of 91.87m2.
The Largest Paintbrush Mosaic, "King of Pop", a tribute to singer Michael Jackson displayed at the run-up to Guinness World Records Day on 11 November 2009.
The Largest Screw Mosaic, "Artists Banknote", where 235,500 metal screws were used for a piece depicting the poet Homer, blind, on a banknote and dedicated to artists all over the world illustrating the relationship of artists with money and how blind they are to it. It was unveiled in celebration of Guinness World Records Day on 18 November 2010.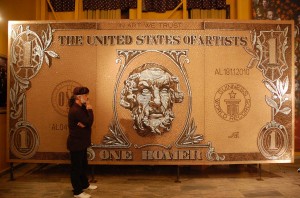 The Largest Coffee Bean Mosaic, "One World, One Family, One Coffee" measured 25.18m2 and used more than 620 kilos of coffee beans (more than one million grains) and the artwork was made on 12 December 2011. There are five characters in this mosaic; each representing a continent.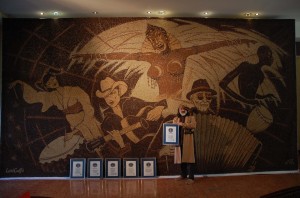 All the pieces were executed live in front of the public. It takes skill and a lot of patience to undertake projects of this magnitude.
We wonder what Starti's next project is!