Botticelli: The Birth of Venus
Known as the Cradle of Renaissance and home to the world's most famous artists and works of arts, Florence is also where the stunning Botticelli's "Birth of Venus" is displayed, more specifically in the Uffizi Gallery.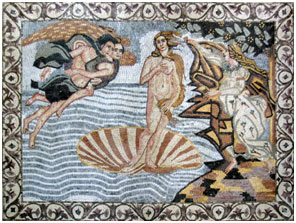 The painting, considered as one of the most precious works of the Renaissance, was completed by Sandro Botticelli circa 1486. It depicts the goddess Venus emerging from the sea as a full-grown woman on a seashell, in her daring nudity, accompanied by angels looking over her and welcomed onshore by a woman waiting to cover her with a cloak. The beauty and uniqueness of this painting are evident not only in the nude depiction of Venus in a time where nude women were hardly portrayed, but also in the liberal way Botticelli represents the bodies of the figures. Known to be an "unordinary" artist, Botticelli distinguished himself through works that represented "la crème de la crème" of the Early Renaissance paintings. During his lifetime, he was one of the most acclaimed painters in Italy and the favorite of the leading families of Florence. His painting, "The Birth of Venus", is beautifully and authentically represented at Mosaic Marble in our "famous artists" mosaic collection. Kindly contact us for more information.